Related Products
Flat Rolled
Extruded/Drawn
Nickel-Silver Bar
Nickel-Silver Pipe
Nickel-Silver Rod
Nickel-Silver Wire
Nickel-Silver Extruded
Products to Specs
Nickel-Silver Tubes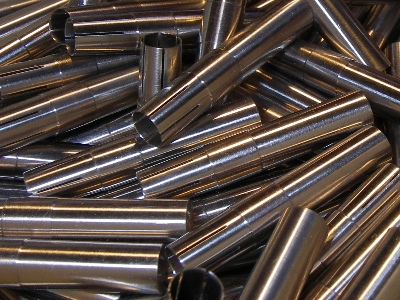 Nickel silver is a metal alloy of copper with nickel and often but not always zinc. The usual formulation is: 60% Copper / 20% Nickel / 20% Zinc. It is named for its silvery appearance, but contains no elemental silver unless plated. Other common names for this alloy are: new silver German silver, paktong, and alpacca (or alpaca). It is noted for both corrosion resistance and high electrical resistance.
Global Metals provides a full range of nickel silver products for almost any application. Our strip, coil, foil, bar, rod, pipe, plate, sheet, tube and other profiles are produced in a wide variety of alloys, including clad composites. They can be produced in standard dimensions or custom made to your requirements. Our brass products are manufactured in compliance with the main international specifications, and tighter tolerances are available upon request. We offer various platings and coatings, edge conditioning, special surface conditions, profiled strip, and multiple packaging options to meet our customers' requirements. The following is a summary of our production capabilities.

Alloys
ASTM
Trade Name
EN / DIN
C73500
Nickel Silver 735
C75200
Nickel Silver 752
C76200
Nickel Silver 762
C77000
Nickel Silver 770
C79600
Nickel Silver 796 (Leaded)
Other Alloys available upon request
Clad Composites
Thickness
| | | | |
| --- | --- | --- | --- |
| Min. Gauge | 0.006" | 0.15mm | For thinner gauges see Link |
| Max. Gauge | 0.250" | 6.35mm | For thicker gauges see Link |
Width
| | | | |
| --- | --- | --- | --- |
| Min. Width | 0.125" | 3mm | For narrower widths see Link |
| Max. Width | 48.00" | 1,220mm | |
Tolerances
Specifications
Manufactured in compliance with the main international specifications and standards including: ASTM, EN, and DIN. Our brass strip can also be manufactured to meet the requirements of other international standards, including: ASME, SAE, MIL, QQ, ISO, BS, and JIS.
Surface Finishes
Blanking
Cladding
Coating
Cut-to-Length
Deburring
Edge Conditioning
Forming
Painting
Plating
Polishing
Precision Slitting
Punching
Shearing
Slitting
Traverse Winding
Applications
Costume Jewelry
Electroplated Wares (Epns)
Giftware
Heating Coils
Housewares
Keys
Musical Instruments
Marine Fittings
Plumbing Fixtures
Silver Plated Cutlery
Zippers
Packaging
Title
Title
Paragraph