Related Products
Flat Rolled
Brass Circles
Brass Plate
Brass Sheet
Extruded/Drawn
Brass Bar
Brass Rod
Brass Wire
Custom Brass Products
Pipes
Bronze Pipe
Copper-Nickel Pipe
Brass Pipe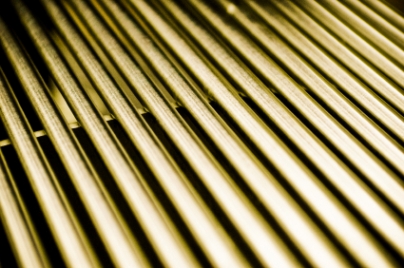 Brass pipe is extensively used in plumbing, particularly for hot-water distribution lines. Hot water rusts steel much faster than cold water does. Also, brass pipe on hot-water lines does not color water red as steel pipe often does. To avoid corrosion, brass pipe must be at least 67% copper and 37% zinc. The best grade (red brass pipe) is 85% copper and 15% zinc.
Global Metals provides a full range of brass products for almost any application. Our strip, coil, foil, bar, rod, pipe, plate, sheet, tube and other profiles are produced in a wide variety of alloys, including clad composites. They can be produced in standard dimensions or custom made to your requirements. Our brass products are manufactured in compliance with the main international specifications, and tighter tolerances are available upon request. We offer various platings and coatings, edge conditioning, special surface conditions, profiled strip, and multiple packaging options to meet our customers' requirements. The following is a summary of our production capabilities.
Alloys
ASTM
Trade Name
EN / DIN
C21000
Gilding Metal
CuZn5
C22000
Commercial Bronze
CuZn10
C22600
Jewelry Bronze
C23000
Red Brass
CuZn15
C24000
Low Brass
CuZn20
C25600
CuZn28
C26000
Cartridge Brass
CuZn30
C26130
Arsenical Brass
CuZn30As
C26800
Yellow Brass
CuZn33
C27000
Yellow Brass
CuZn35
C27200
Yellow Brass
CuZn36
C27400
Yellow Brass
CuZn37
C28000
Muntz Metal
CuZn40
C33500
Low Leaded Brass
CuZn36Pb0.5
C35300
High Leaded Brass
CuZn37Pb2
C35600
Extra High Leaded Brass
CuZn37Pb3
C42200
Tin Brass
C42500
Tin Brass
CuSn3Zn9
Other Alloys available upon request
Clad Composites
Thickness
| | | | |
| --- | --- | --- | --- |
| Min. Gauge | 0.006" | 0.15mm | For thinner gauges see Link |
| Max. Gauge | 0.250" | 6.35mm | For thicker gauges see Link |
Width
| | | | |
| --- | --- | --- | --- |
| Min. Width | 0.125" | 3mm | For narrower widths see Link |
| Max. Width | 48.00" | 1,220mm | |
Tolerances
Specifications
Manufactured in compliance with the main international specifications and standards including: ASTM, EN, and DIN. Our brass strip can also be manufactured to meet the requirements of other international standards, including: ASME, SAE, MIL, QQ, ISO, BS, and JIS.
Surface Finishes
Anodizing
Beading
Bending
Cladding
Cleaning
Coating
Cold Forming
Cut-to-Length
Deburring
Edge Conditioning
Flaring
Forming
Machining
Painting
Threading
Applications
Generators
Hot Water Distribution
Plumbing
Radiators
Sanitation Pipes
Sink Traps
Packaging
Title