Related Products
Flat Rolled
Bronze Circles
Bronze Plate
Bronze Sheet
Extruded/Drawn
Bronze Bar
Bronze Pipe
Bronze Rod
Bronze Wire
Custom Bronze Products
Coil
Aluminum Coil
Brass Coil
Copper Coil
Copper-Nickel Coil
Nickel-Silver Coil
Bronze Coil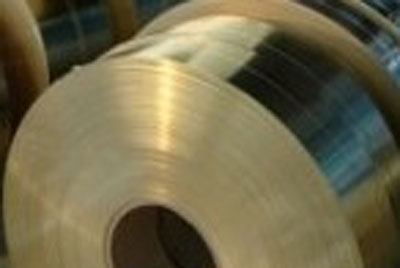 Bronze is a metal alloy made of copper, with an additive which is often tin It is less brittle than iron and heavier than steel It oxidizes superficially while thin oxide layer protects underlying metal Bronze resists corrosion (especially seawater corrosion) and metal fatigue better than steel has excellent elasticity, high strength and outstanding malleability for bending and drawing It has high electrical conductivity, high thermal conductivity and high wear resistance.No seasonal cracking, no age hardening it is non-magnetic and easy to solder. Our aluminum strip can be produced in standard dimensions or custom made to your requirements. We produce both imperial and metric units.
Global Metals provides a full range of bronze products for almost any application. Our strip, coil, foil, bar, rod, pipe, plate, sheet, tube and other profiles are produced in a wide variety of alloys, including clad composites. They can be produced in standard dimensions or custom made to your requirements. Our bronze products are manufactured in compliance with the main international specifications, and tighter tolerances are available upon request. We offer various platings and coatings, edge conditioning, special surface conditions, profiled strip, and multiple packaging options to meet our customers' requirements. The following is a summary of our production capabilities.
Alloys
ASTM
Trade Name
EN / DIN
C22000
Commercial Bronze
CuZn10
C22600
Jewelry Bronze
Cu12.5Zn

C31400

Leaded Bronze

CuZn9Pb29p

C38500.

Architectural Bronze

CuZn40Pb2
C50500

Bronze 505

C51000
Phosphor Bronze

CuSn5
C51100

Bronze 511

CuSn4
C21000

Bronze 521

CuSn6
C27000

Bronze 524

CuSn8
C63000

Aluminum Bronze

CuAl5
C65500

Silicon Bronze

CuNi2Si

C86300

Manganese Bronze

CDA863

C90300

Navy G Bronze

CDA903

C90500

Gunmetal

CDA947

C92200

Navy "M" Bronze

CDA 905

C93200

Bearing Bronze

CDA922
Other Alloys available upon request
Clad Composites
Thickness
| | | | |
| --- | --- | --- | --- |
| Min. Gauge | 0.006" | 0.15mm | For thinner gauges see Link |
| Max. Gauge | 0.250" | 6.35mm | For thicker gauges see Link |
Width
| | | | |
| --- | --- | --- | --- |
| Min. Width | 0.125" | 3mm | For narrower widths see Link |
| Max. Width | 48.00" | 1,220mm | |
Tolerances
Specifications
Manufactured in compliance with the main international specifications and standards including: ASTM, EN, and DIN. Our brass strip can also be manufactured to meet the requirements of other international standards, including: ASME, SAE, MIL, QQ, ISO, BS, and JIS.
Surface Finishes
Anodizing
Beading
Bending
Cladding
Cleaning
Coating
Cold Forming
Cut-to-length
Deburring
Edge Conditioning
Electroplating
Flame Cutting
Flaring
Forming
Hot dip tinning
Machining
Milling
Painting
Plate Saw Cutting
Plating
Polishing
Precision Slitting
Stamping
Threading
Traverse Winding
Applications
Automotive components
Bellows
Bearings
Blades
Building Restoration
Cast Sculpture
Clips
Durable Tools
Electrical connectors, contacts, frames, terminals
Musical Instruments such as Bells & Cymbals
Screws
Springs
Weatherstripping
Packaging
Pancake Coils
Up to 500 PIW (pounds per inch of width)
Horizontal or vertical axis packaging available
Wooden Pallets or Crates
Level Wound Coils
Up to 3,000 lbs
Gauge range from .007" to .065" 0.18 mm to 1.65 mm
Width range from .200" to 2.35" 5 mm to 60 mm
Multicoils
A stack of coils joined together to produce a long strip when decoiled on a horizontal decoiler. This allows the operator to process an entire stack of coils in one procedure.
Custom Packaging
Custom packaging, coil weights, inner diameters and outer diameters are available upon request.