Related Products
Flat Rolled
Copper Circles
Copper Plate
Copper Sheet
Extruded/Drawn
Copper Bar
Copper Bus Tube
Copper Rod
Copper Wire
Custom Copper Products
Tubes
Copper Tubes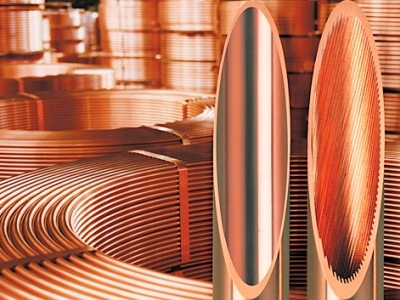 Copper is light, strong, corrosion-resistance, long lasting and maintenance free. Its high thermal conductivity and ease of joining, bending and handling often make it the metal of chopice for tubing. Copper tube will not burn or support combustion or decompose to toxic gases. Therefore, it will not carry fire through floors, walls and ceilings. Volatile organic compounds are not required for installation.
Global Metals provides a full range of copper products for almost any application. Our strip, coil, foil, bar, rod, pipe, plate, sheet, tube and other profiles are produced in a wide variety of copper alloys, including clad composites. They can be produced in standard dimensions or custom made to your requirements. Our copper products are manufactured in compliance with the main international specifications, and tighter tolerances are available upon request. We offer various platings and coatings, edge conditioning, special surface conditions, profiled strip, and multiple packaging options to meet our customers' requirements. The following is a summary of our production capabilities.
Alloys
ASTM
Trade Name
EN / DIN

C10100

Copper 101

C10200

Copper 102

C10300

Copper 103

C11000

Copper 110 - Electrical Grade Copper

C12000

Copper 120

C12200

Phosphor Copper

C14500

Copper 145 - Tellurium Copper

C15000

Zirconium Copper

C16200

Cadmium Copper

C17200

Beryllium Copper

C18200

Chromium Copper

C65100

Silicon Copper (Low Silicon Bronze B)

C68700

Arsenical Copper

Other Alloys available upon request
Clad Composites
Thickness
| | | | |
| --- | --- | --- | --- |
| Min. Gauge | 0.006" | 0.15mm | For thinner gauges see Link |
| Max. Gauge | 0.250" | 6.35mm | For thicker gauges see Link |
Width
| | | | |
| --- | --- | --- | --- |
| Min. Width | 0.125" | 3mm | For narrower widths see Link |
| Max. Width | 48.00" | 1,220mm | |
Tolerances
Specifications
Manufactured in compliance with the main international specifications and standards including: ASTM, EN, and DIN. Our brass strip can also be manufactured to meet the requirements of other international standards, including: ASME, SAE, MIL, QQ, ISO, BS, and JIS.
Surface Finishes
Anodizing
Beading
Bending
Cladding
Cleaning
Coating
Cold Forming
Cut-to-Length
Deburring
Edge Conditioning
Flaring
Forming
Machining
Painting
Threading
Applications
Air Conditioning & Refrigeration

Domestic Water Service and Distribution

Drain, Waste and Vent
Fittings
Fixtures
Fire Sprinklers
Fuel Gas (Natural Gas and L. P.) Distribution
Geothermal Exchange Heating/Cooling
Irrigation and Agricultural Sprinkler Systems
Heating
Medical Gas
Snow Melting
Solar Energy Systems
Packaging
Title
Title
Paragraph